Shingo Takatsu
has become the newest Woori Hero. I have fond memories of Mr. Zero saving games for the '04 White Sox with his goofy frisbee pitch and his goofier grin.
Oh Noes!
Park Chan-ho was lit up last weekend.
I was liking
this article
on ties in the KBO, until I read the John Kruk quote at the bottom. I didn't know about 15 inning ties in the playoffs. How can you end a playoff game in a tie? What if its a game 7? Does everyone get a trophy?
SK 11, Doosan 0

W - Kim Kwang-hyeon(9-3), L - Justin Lehr (0-3)
SK is just a machine. Usually, their games with Doosan are among the more entertaining in the KBO. Last night was entertaining, if you enjoy using AK-47's to hunt snapping turtles. If this were a video game, you would have seen this at the end...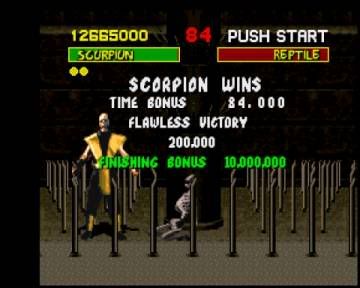 I'd like to see SK's finishing move. My guess is that Choi Jeong uses his telekinesis to implode the opposing pitchers' mind. That's right. Implode.
SK dominated the game from beginning to end. Either by hitting meatballs all over the park or a dominating combined 3-hitter from their pitching staff.
SK ace, Kim Kwang-hyeon, was awesome last night. Kim only stuck around for 7 innings(95 pitches, 59 strikes) thanks to the 11-run outburst from the SK offense. He allowed only 2 hits and 3 walks while striking out 6.
At the plate for SK, Lee Jin-yeong, Na Joo-hwan and Jo Dong-hwa each had 2 RBI during the route. Only one SK starter didn't record a hit. I'm looking at YOU, Park Jae-sang, but Park did draw a walk and drive in a run. SK only had 2 extra base hits in this game and they didn't get their first until the 5th inning. Walks and line drives spelled DOOM for Doosan.
Woori 9, Samsung 6

W - Ma Il-yeong(5-4), L - Lee Sang-mok(5-5), S - Park Joon-su (1)
Welcome to the newest edition of "Get-To-Know-Your-Lions!" Today, we'll be talking about our new first baseman, Chae Tae-in. Chae, 26, is only in his 2nd year with the big club, but he only saw limited action last year. At 187 cm., he towers over the rest of the infield and his 94 kg make it difficult for him to find pants in his own country. Chae both throws and bats with his left had or, should I say, his SINISTER hand! A true road warrior, Chae is OPSing 200 points more on the road than he does in Daegu. As recently as last night, Chae led the Lions in a losing effort by going 2-4 with a double, 2 RBI and 1 run scored.
I don't mean to sound like Joe Morgan, but the only word to describe last night's effort is....inconsistent. After taking 2 of 3 from Doosan at home, I can honestly say I expected better than this against Woori. Thanks for building up my hopes again, guys. Lee Sang-mok was predictably awful. He's just not a starter...or a very good pitcher. He didn't walk anyone, but Woori clubbed two homers off him. Lee Taek-geun struck in the 3rd inning and foreign slugger, Cliff Brumbaugh, struck in the 5th. Samsung scored 5 runs during fake rallies in the 7th and 8th innings, but there was never really a sense that they would take the lead.

KIA 7, LG 1 (7)
W - Lee Beom-seok(4-3), L - Jang Chan-heon(3-7)

This one was shortened by rain. I think LG was just happy they were able to skip out on the last two inning and hit the bars a little earlier. KIA was leading 6-0 heading into the 7th, but LG mounted a fake rally just to get on the scoreboard before the rains came. Predictably, they gave the run right back in the bottom of the 7th.

The game ball goes to KIA starter, Lee Beom-seok. Lee tossed 5 shutout innings(70 pitches, 40 strikes) allowing only 3 hits and 1 walk, while striking out 3. Cha Il-mok had a big night at the plate for KIA. He finished 3-4 with a double and 3 RBI.

Lotte 9, Hanhwa 4
W- Song Seung-joon(8-3), L - Ryu Hyeon-jin(6-4)

Between Song Seung-joon and Son Min-han, Lotte has the best 1-2 punch of starting pitchers in the league. I know SK's Kim Kwang-hyeon and Chae Byeong-ryong have been very good this year, but Song and Son have been a little more consistent this season. Kim and Chae have been known to blow up from time to time. Song and Son(sounds like a moving company) haven't.

Ryu didn't get lit last night, only 4 runs over 6, but Song was a lot better. He allowed 1 run on 6 hits and 3 walks over 6 innings, while striking out 6.

Shin Kyeong-hyeon had another nice night for the Eagles. He finished 3-4 with a double and 3 RBI.The Giants 7-8-9 hitters came up big last night. Son Kwang-min, Park Hyeon-seung and Park Ki-hyeok combined to go 6-12 with 5 RBI and 5 runs scored.