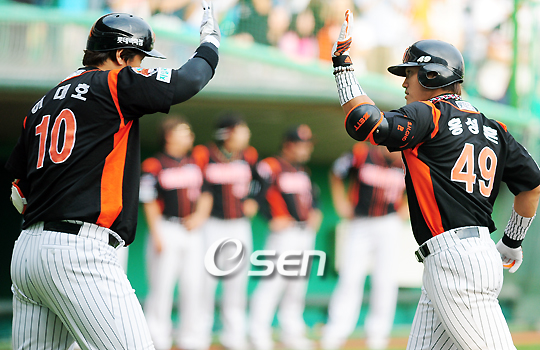 Lee Dae-ho: 28 home runs. Hong Seung-heun: awesome too but couldn't fit into the blog entry photo (what's wrong with Blogspot??)
This past week was the last full week before the All-Star break. There's only 3 regular game days this coming week (one series for each team): LG/Doosan, Lotte/Hanhwa, Samsung/Kia, and SK/Nexen are the 4 series for the week.
Standings as of 7/19/10 are:
| | | | | | | |
| --- | --- | --- | --- | --- | --- | --- |
| | | 85 | 59 | 0 | 26 | 0.694 |
| | Samsung | 90 | 53 | 1 | 36 | 0.589 |
| | Doosan | 86 | 49 | 1 | 36 | 0.570 |
| | Giants | 87 | 41 | 3 | 43 | 0.471 |
| | | 88 | 40 | 1 | 47 | 0.455 |
| | | 87 | 36 | 0 | 51 | 0.414 |
| | Heroes | 90 | 35 | 2 | 53 | 0.389 |
| | Chickens | 89 | 34 | 0 | 55 | 0.382 |
Rainy season is in full effect on the Korean peninsula. All teams played 5 games or less, some just played 4 games. W/L after each team ranking is the win-loss record for each team after the Monday break. July 12 was the last Monday before this week so the records will reflect games played from Tuesday, July 13.
And if you're a total n00b (to KBO, to this blog), you'll need to know that power rankings are just some random ideas that may or may not reflect reality.
Rankings:
First: SK 4-1
It's looking to be SK and Samsung as the elite teams of this league. SK is still the superior team leading in total rankings and above Samsung in virtually all statistical categories. But SK has been the inferior team as of late as Samsung's recent surge is what has made the team below creep up the charts. SK's only loss was to another Ryu Hyun-jin burner on the Tuesday Hanhwa game.
Second: Samsung 4-1
Speaking of burning, this year's Lions team might have been known for their hitting but Lions' pitching staff is also getting into the act shutting out teams or keeping opponents' run-counts low. Jang Won-sam (9-4) and Ahn Ji-man (7-3) are stellar but other pitchers have been strking out a lot and getting things done. Francisco Cruceta is a bit of a worry, however.
Third: Doosan 2-2
Cruising along and doing half decent, losing twice to Samsung above is not a good sign if these teams are meeting in the playoffs. Managed to shut down a very offensively potent Lotte team (or maybe Lotte's luck is running out?), that game featured a pitchers duel between Song Seung-joon and Kelvin Jiminez, who both pitched complete games. Speaking of Jiminez, this guy is 12-3 and 3.23. His buddy Lester Walrond is also a winning pitcher at 5-3 and 3rd in team K's at 58. Doosan won the KBO off season foreign player signing sweepstakes last off-season.
Fourth: Nexen 2-2-1
Nexen has had some flashes of brilliance this season even peaking a few times in these illustrious rankings. This week displayed some of that as they carried a (sort of) winning week into the all star break week. Heroes split both series against Lotte and Hanhwa, including the draw against the Giants on Tuesday. That game was a 12 inning grind with stats split almost even between the two teams except for one glaring piece of non-evenness: Lotte had to use 8 pitchers to Nexen's 5. A lot of the 8 Lotte relievers were used again in the series finale and Nexen ended up winning that game. This is called, like, baseball strategy right?
Fifth: Lotte 1-3
Not a bad season at all for the KBO's premier money getters. Hong Seong-heun's having an (other) insane season and Lee Dae-ho's got 28 (TWENTY EIGHT) home runs with the half not even done yet. In other words, Lee's on pace to hit over 56 home runs this season. Not only this but Giants' entire starting rotation has winning records and pretty decent strike out numbers. Lotte's one series this coming week is with last place Hanhwa and this week will be good to the Giants.
Sixth: LG 2-2
Twins had two 2 game mini series' against Kia and Samsung this week and won both Kia games and lost both Samsung games. This predictability is evident in all things LG this season. Bong Joon-gun (8-5, 3.11) and Lee Do-hyun (5-0, 2.98) are the two lone stars on this team, everything else predictable, average, and boring. LG reminds me of a Canadian or Minnesota based hockey team. The audience is big enough that they just need to try a little bit to get the fans in the stadium and buying some merchandise. There's 30 million people in the Seoul metro area and many are baseball fans, you don't have to try that hard when you've got it made.
Seventh: Eagles 2-3
Hanhwa is last in the standings but not last in the rankings because of team below. Fortunately for this team, Kia's only getting worse and Hanhwa probably won't be finishing last this season (team below will). This team had two solid wins this week. Ryu Hyun-jin is still shocking opponents but you'll probably not be surprised to know that he's the only winning pitcher on staff. Choi Jin-heng is having a break-out year sitting at 24 home runs and 90 hits. This team needs to build around these two stars.
Last: Kia 0-4
0 and 4 but they did have the fortune to end this week losing to SK. But they did get sweeped in their LG game too. Mercifully was only given 4 games to play and did what was expected both times. Yang Hyun-jong is the lone bright spot on this team with an 11-3 and 3.66. Big Choi Hee-sup has just a little more than half of the home-runs Lee Dae-ho has. Choi did bring his BA up to 300 but him and Lee Yong-gyu (307) are the only hitters on this team with 300+ BA's. Bottom line, players aren't performing, they're not playing well with each other, and Kia will not make the playoffs this season.